UK: 18+ USA: 21+ | Begambleaware.org  | T&Cs apply | Play Responsibly
The Epsom Derby is one of the most prestigious horse racing events, and the 2023 edition promises to be thrilling. With a star-studded field and exciting contenders, it's important to analyze the key runners and make informed betting decisions. This article will provide our best Epsom Derby betting tips and predictions to help you navigate this prestigious race.
Epsom Derby Betting Tips and Predictions for 2023
The Epsom Derby is set to showcase some of the finest three-year-old colts in the world, competing for the £1.5 million prize.
With Frankie Dettori bidding farewell to the Derby, the atmosphere will be electric as Arrest, trained by John and Thady Gosden, emerges as one of the leading challengers. In this highly competitive field, we have identified our top choices for outright winner, each-way bet, and dark horse prediction.
Our Outright Prediction – Arrest @ 6/1 (7.00)
Arrest, ridden by the legendary Frankie Dettori, holds strong claims to be the outright winner of the Epsom Derby. Trained by the highly successful duo of John and Thady Gosden, Arrest has already showcased his potential with a convincing victory in the Chester Vase last month. This victory came on soft ground, which enhances his chances if the ground conditions remain similar at Epsom. Although rain is not expected, Arrest's previous success on soft ground bodes well for his prospects in the Derby.
Dettori, a two-time Derby winner, will be determined to make his final ride in the Derby a winning one. With his exceptional track record and Arrest's impressive form, they make a formidable combination and a solid choice for the outright win.
Our Each-Way Prediction – Auguste Rodin @ 5/2 (3.50)
Auguste Rodin, trained by the legendary Aidan O'Brien and ridden by Ryan Moore, is a top contender in the Epsom Derby. Although he finished fourth in the 2,000 Guineas, O'Brien holds high regard for this colt and expects a much different outcome over the mile-and-a-half distance at Epsom.
In addition, Auguste Rodin's sire, Deep Impact, suggests he will relish the ground conditions at Epsom. With Moore's expertise in the saddle, this combination has the potential to make a strong showing and secure a place in the each-way bet.
Our Dark Horse Predictions:
Given that there are a few interesting options with high odds, we have decided to provide you with three horses that could surprise everyone:
Passenger @ 5/1 (6.00)
For those seeking a dark horse with enticing odds, Passenger presents an intriguing opportunity. Trained by Sir Michael Stoute and ridden by Richard Kingscote, Passenger caught the eye with a promising performance in the Dante Stakes, finishing third after being denied a clear run.
The Niarchos family's decision to add him to the Derby field for £85,000 speaks volumes about their confidence in his abilities. Although relatively inexperienced, Passenger has shown great potential and could surprise the field with a strong run on the big day.
Sprewell @ 13/1 (14.00)
Another dark horse to watch is Sprewell, trained by Jessica Harrington who aims to make history as the first female trainer to win the Epsom Derby with Sprewell. Despite her absence from the racecourse due to breast cancer treatment, Harrington's expertise and success in flat and jumps racing make her a formidable force.
Sprewell's victory in the Leopardstown Derby Trial highlights his potential, and under Harrington's guidance, he could be a dark horse capable of surprising the field.
The Foxes @ 14/1 (15.00)
A strong contender owned by the Srivaddhanaprabha family, The Foxes are named after their successful football club, Leicester City. This runner impressed with a victory in the Dante Stakes and is trained by King Power Racing.
Jockey Oisin Murphy, back after a ban, will be riding The Foxes, adding further confidence to their chances. With the backing of prominent ownership and recent success, The Foxes could be a force to be reckoned with in the Epsom Derby.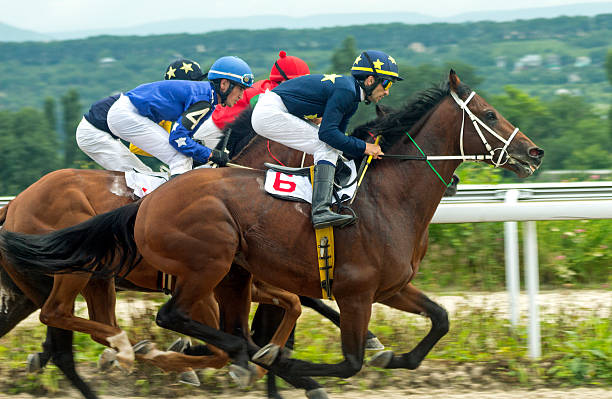 Value Bets: Dubai Mile and White Birch
Dubai Mile, owned by enthusiastic owner Ahmad Al Shaikh, has shown promise as a Group 1-winning two-year-old. Although he finished fifth in the 2,000 Guineas, his previous efforts at significant odds indicate that he may outperform expectations.
White Birch, the only grey in the field, represents trainer John Joseph Murphy and was a running-on second in the Dante Stakes. Dubai Mile and White Birch offer value bets for those seeking higher odds and the potential for an upset.
General Betting Tips for Horse Racing
Here are some general betting tips to enhance your horse racing wagering experience:
Study the Form
Analyze the recent performances and form of the horses to assess their suitability for the race. Look for consistent performers with strong finishes.
Consider Jockeys and Trainers
Pay attention to the track record and expertise of the jockeys and trainers. Experienced and successful combinations can significantly impact a horse's chances.
Evaluate Ground Conditions
Different horses perform better on specific ground conditions. Consider how the ground conditions at Epsom may favor or hinder certain contenders.
Assess Value and Odds
Look for horses with favorable odds that provide value for your wagers. Assess the probability of a horse winning versus the odds offered to find opportunities where the odds are in your favor.
Manage Your Bankroll
Set a budget for your betting activities and stick to it. Avoid chasing losses and wager responsibly.
By incorporating these tips into your betting strategy, you can make more informed decisions and increase your chances of success.
Wrapping Up
The 2023 Epsom Derby is an exhilarating talent and competition showcase. Arrest, Auguste Rodin, and Passenger are our top picks for outright winner, each-way bet, and dark horse prediction.
However, we recommend you conduct thorough research, analyze the factors specific to each horse, and consider your betting preferences before making your final selections. Good luck, and enjoy the thrilling spectacle of the Epsom Derby!
---
Subscribe to Punditfeed on
Google News
for all the latest updates from the world of sports!