UK: 18+ USA: 21+ | Begambleaware.org  | T&Cs apply | Play Responsibly
Wales captain and Los Angeles FC striker Gareth Bale has announced his retirement from football at the age of 33 after a hugely successful playing career.
The forward retires as the most-capped male player for Wales and also his country's leading goalscorer of all time.
During his career, Bale won five Champions League title with Real Madrid and will go down as perhaps Wales' best ever footballer.
Bale's Retirement Statement
The player took to social media today to announce his retirement from the game to the world.
"After careful and thoughtful consideration, I announce my immediate retirement from club and international football," Bale said on social media.
"I feel incredibly fortunate to have realised my dream of playing the sport I love," he added.
"It [football] has truly given me some of the best moments of my life," the star explained in a statement,  "The highest of highs over 17 seasons, that will be impossible to replicate, no matter what the next chapter has in store for me."
A Successful Playing Career
Born in Cardiff, Gareth Bale began his professional football career with Southampton in England before securing a move to Tottenham Hotspur in London. At Spurs, the Welshman became one of the best players in the world and was eventually sold for a record fee to La Liga behemoths Real Madrid, where he won much silverware.
Last summer, the player moved from Madrid to the MLS' Los Angeles FC, where he played until this year's World Cup in Qatar. At the tournament, Bale lined out for his beloved Wales, who were unfortunately knocked out of the competition in the group stages.
In his time at Spurs, Bale was named player of the year twice before he moved to the Bernabeu for 80 million pounds in 2013. It was at the London side where Bale really made a name for himself in the football world, evolving from a dynamic left fullback into a serial goal scoring forward.
After moving to Madrid, things were not always rosy.  Bale endured a tough time in Spain in some moments, as he came into conflict with the national media while his persistent injuries and apparent favor for his international career did not always win him favor with fans.
As things began to unravel for Bale at the club, he would go out on loan to Spurs where he netted 17 goals for his ex-side.
Still, the Welshman collected numerous trophies during his stay in Madrid, winning three La Liga titles and five Champions League titles. He also helped Real to three Club World Cup wins, three UEFA Super Cups and a Spanish Cup too.
Ultimately,  the winger and striker would net 104 goals for Madrid in 250 appearances.
At LAFC, Bale lined out 13 times, starting just twice, and scored a last minute winner for the side in November to level the MLS Cup final. The game then went to penalties which Bale's side won.
Bale Pays His Dues
In his statement released on Monday, Bale thanked those who had helped him along the way throughout his glittering career.
"To show my gratitude to all of those that have played their part along this journey feels like an impossibility," Bale said.
"I feel indebted to many people for helping to change my life and shape my career in a way I couldn't have ever dreamed of when I first started out at nine years old."
"To my previous clubs Southampton, Tottenham, Real Madrid and finally LAFC, all of my previous managers and coaches, backroom staff, team-mates, all the dedicated fans, my agents, my amazing friends and family, the impact you have had is immeasurable."
"My parents and my sister, without your dedication in the early days, without such a strong foundation, I wouldn't be writing this statement right now, so thank you for putting me on this path and for your unwavering support."
"My wife and my children, your love and support has carried me through. Right beside me for all the highs and lows keeping me grounded along the way, you inspire me to be better and to make you proud."
"So I move on with anticipation to the next stage of my life, a time of change in transition and opportunity for a new adventure."
Bale's Success with Wales
Bale also referenced his love of playing for his country, who he led to a historic European Championship semi-final in 2016 as well as the knock-out stages of Euro 2020 and this year's World Cup.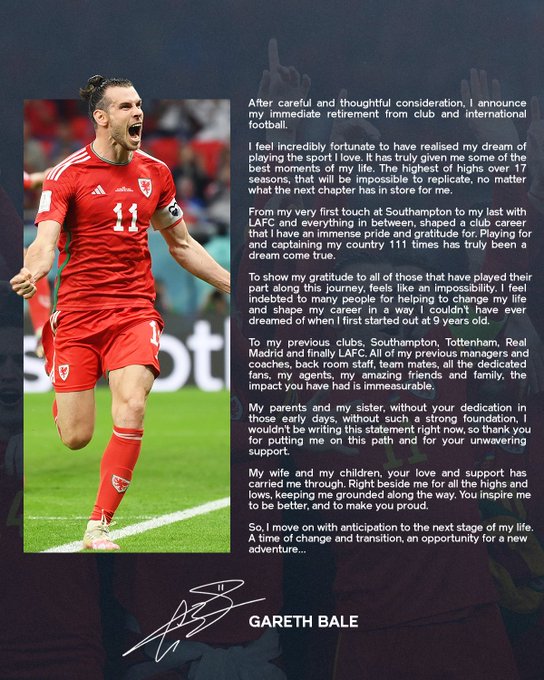 "My decision to retire from international football has been by far the hardest of my career," Bale said on social media today.
"How do I describe what being a part of this country and team means to me? How do I articulate the impact it has had on my life? How do I put into words the way I felt every single time I put on that Welsh shirt?," he asked, "My answer is that I couldn't possibly do any of those things justice simply with words."
"But I know that every person involved in Welsh football feels the magic and is impacted in such a powerful and unique way, so I know you feel what I feel without using any words at all."
"My journey on the international stage is one that has changed not only my life but who I am. The fortune of being Welsh and being selected to play for and captain Wales has given me something incomparable to anything else I've experienced."
"I'm honoured and humbled to have been able to play a part in the history of this incredible country, to have felt the support and passion of the Red Wall and together have been to unexpected and amazing places," he explained.
"I shared a dressing room with boys that became brothers and backroom stuff that became family."
"I played for the most incredible managers and felt the undying support and love from the most dedicated fans in the world. Thank you to every one of you for being on this journey with me."
"So for now I am stepping back but not away from the team that lives in me and runs through my veins after all the dragon on my shirt is all I need."
---
Subscribe to Punditfeed on
Google News
for all the latest updates from the world of sports!