UK: 18+ USA: 21+ | Begambleaware.org  | T&Cs apply | Play Responsibly
In a world that thrives on speed, stamina, and soaring heights, the 2023 World Athletics Championships in Budapest is the epitome of human sporting prowess. This eagerly anticipated event promises to showcase phenomenal feats of athleticism, featuring the finest athletes from around the globe. 
With the palpable excitement building up, the atmosphere is ripe for history to be rewritten. As the world's most talented runners, jumpers, and throwers gear up to take their marks, the stage is set for a series of breathtaking performances. In this preview, we present some of the most electrifying names that are poised to set new world records and leave an indelible mark on the history of athletics.
Faith Kipyegon, women's 1500m and 5000m
Faith Kipyegon is, without a doubt, a sensation in the world of athletics. With her three world records in under 50 days, she has set a precedent for what is possible in the sport. Her incredible form has been a treat for fans and a nightmare for competitors. As she takes her mark on the opening day of the World Championships, she will have her sights set on defending her 1500m title.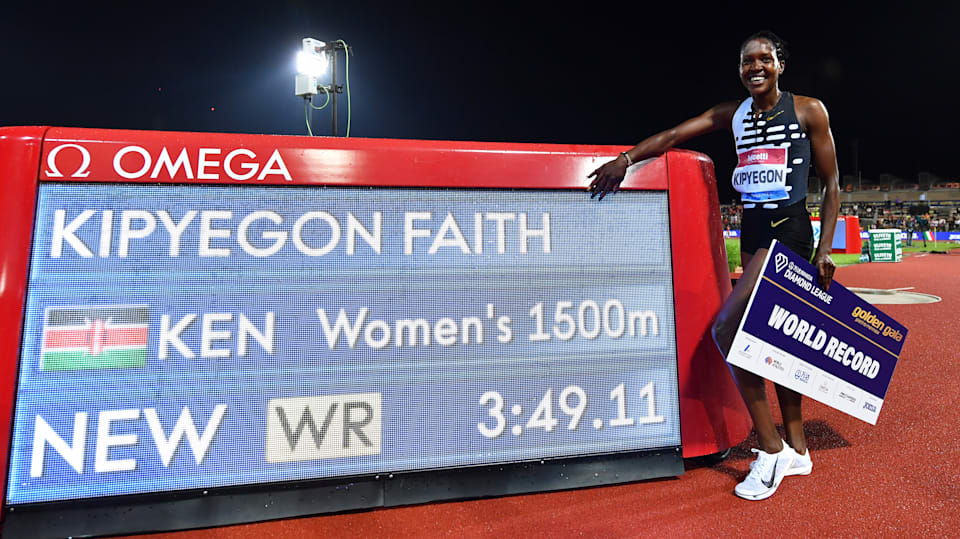 Kipyegon, 29, is in the best shape of her life and might not think of surpassing her recent world records, but the possibility cannot be ruled out. The crowd in Budapest will be eagerly watching to see if she can shave off a few more seconds from her marks set last June.
Jakob Ingebrigsten, men's 1500m
Jakob Ingebrigsten, the fourth-fastest man in history, has already claimed the world indoor 1500m and the European outdoor 1500m records. The 22-year-old Norwegian has improved his personal best to 3:27.14 in Silesia, just a month before the Championships.
He is now a mere two seconds shy of the iconic 3:26.00 mark set by Hicham El Guerrouj in 1998. Ingebrigtsen will undoubtedly seize any opportunity to challenge the Moroccan's record in Budapest. The world has been waiting for a quarter of a century to see El Guerrouj's record fall, and Ingebrigtsen could be the one to make it happen.
Karsten Warholm, men's 400m hurdles
Karsten Warholm, the 400m hurdles world record holder, is another name to watch in Budapest. The Norwegian has returned to his pre-Olympic form and is approaching his fourth World Championships. Having not experienced a loss in 12 starts, Warholm could further improve his mark of 45.94 seconds set at the Tokyo Olympics.
Now fully fit after shrugging off a hamstring injury that hampered his title defence last year in Oregon, Warholm's sights are set firmly on the world record. Athletics fans around the globe will be tuning in to see if Warlholm can produce another magical moment in the hurdles.
Mondo Duplantis, men's pole vault
Olympic champion Armand 'Mondo' Duplantis thrives on reaching ever-greater heights at the top. At just 23 years old, he has already broken the men's world record six times during his career.
His latest achievement came at the 2023 World Athletics Indoor Tour event in Clermont-Ferrand, where he cleared an astounding 6.22m. Duplantis has set the bar high, and with 11 world records under his belt already, he is tipped to push the limits even further in Budapest. The question is, how high can he go?
Yulimar Rojas, Women's triple jump
Continuing with the field events, another athlete who seems to perform well under pressure is Yulimar Rojas. The Venezuelan world and Olympic gold medallist raised the world triple jump record to 15.67m at the Olympics in Tokyo. She then captured her third successive world indoor title by leaping to 15.74m in March 2022.
Rojas is targeting the legendary barrier of 16m, and given her rapid improvements, it's not out of reach. Can she jump to another world record in Budapest? The world will be watching to find out.
Ryan Crouser, men's shot put
Ryan Crouser is not only the man to beat in the shot put as he seeks to defend his world title but is also one to watch when it comes to pushing the limits of his sport. Crouser owns 10 of the 14 biggest throws in shot put history, with his latest being a huge 23.56m from May.
Will the USA once again dominate the shot put? 😤#WorldAthleticsChamps preview 👇

— World Athletics (@WorldAthletics) August 16, 2023
Having polished his new throwing technique, the 'Crouser slide,' the 30-year-old is heaving the shot far and is excited that it could help him get past the mythical 24m barrier. Budapest could witness another record-breaking performance from this talented thrower.
Lamecha Girma and Soufiane El Bakkali, men's 3000m steeplechase
The 3000m men's steeplechase world record had been one of the marks that was difficult to beat. That was until Olympic and world silver medallist Lamecha Girma powered to a new mark at June's Paris Diamond League of 7:52.11.
Earlier in the season, reigning gold medallist Soufiane El Bakkhali, who was tipped to lower the world record, missed the mark with a 7:56.68 at the Rabat Diamond League meet. The race for the gold medal in Budapest could turn out to be a race for the world record, with the two best men lining up for the third consecutive time after the Tokyo Olympics and last year's Worlds in Eugene.
María Pérez and Kimberly García, women's 35km race walk
The women's 35km walk world record has been shattered twice in the current season. First by defending world champion Kimberly Garcia and then by Spain's Maria Perez.
The two top race walkers are set to clash in Budapest in what could be one of the key competitions in which a record could fall. How fast can they push each other to the finish line? With their recent record-breaking performances, it is hard not to imagine another world record on the horizon.
Athletics world records: Wrapping up 
The 2023 World Athletics Championships in Budapest is shaping up to be a spectacular event with the potential for numerous world records to fall. As Budapest's best athletes line up, fans can expect to witness incredible performances, thrilling competitions, and perhaps a few moments that will go down in history.
---
Subscribe to Punditfeed on
Google News
for all the latest updates from the world of sports!